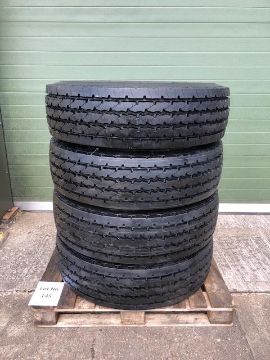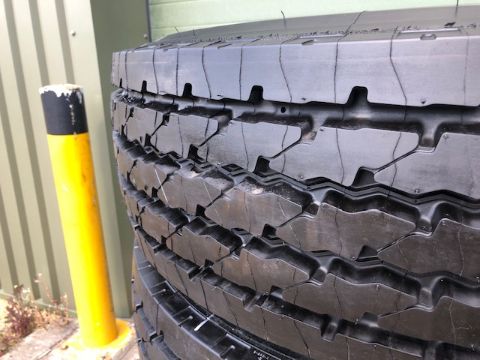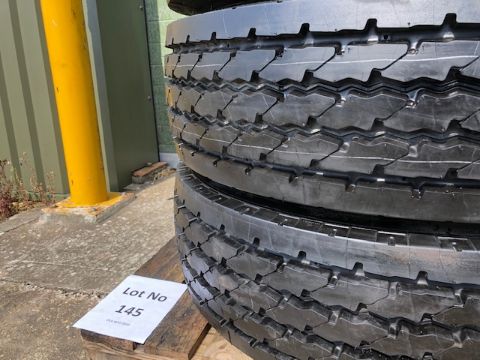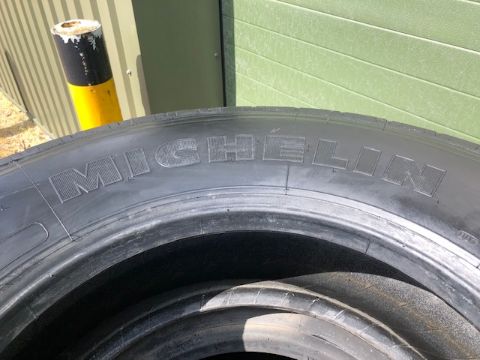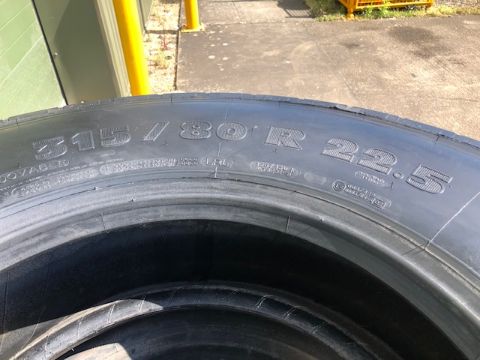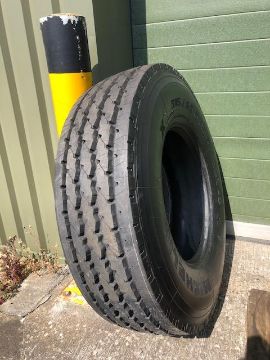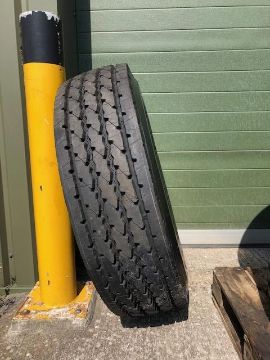 Click on the image to see full size
Use mouse wheel or two fingers to zoom in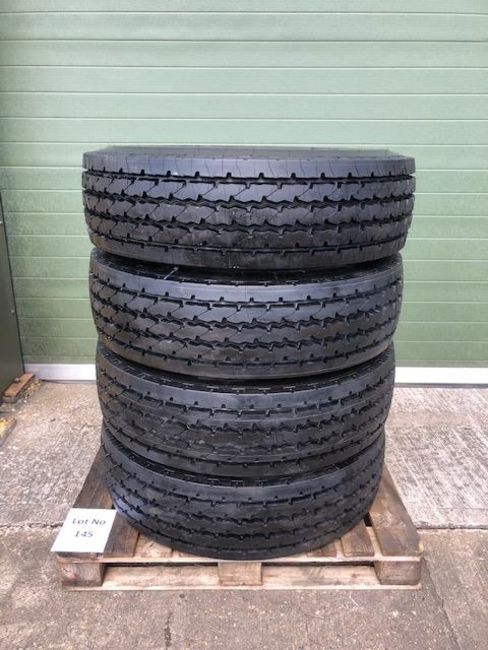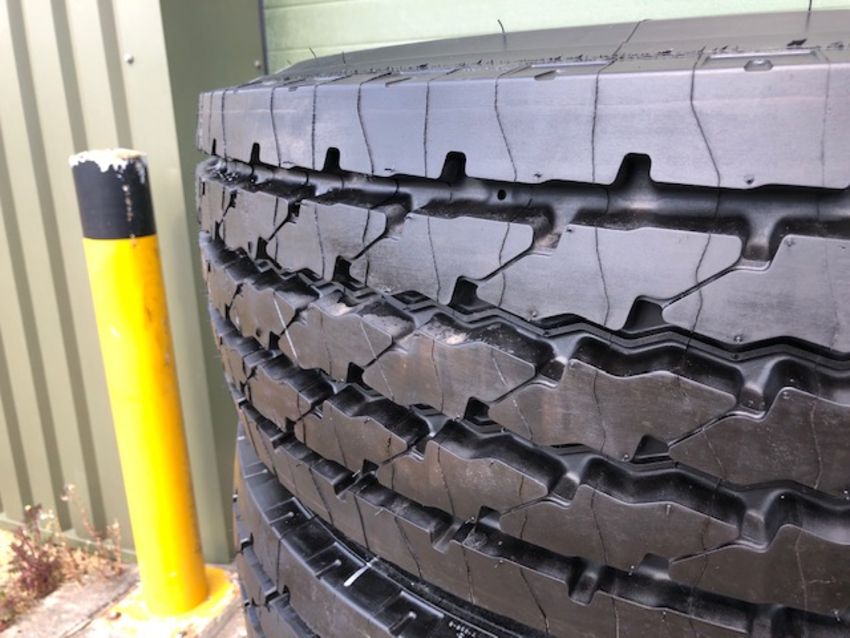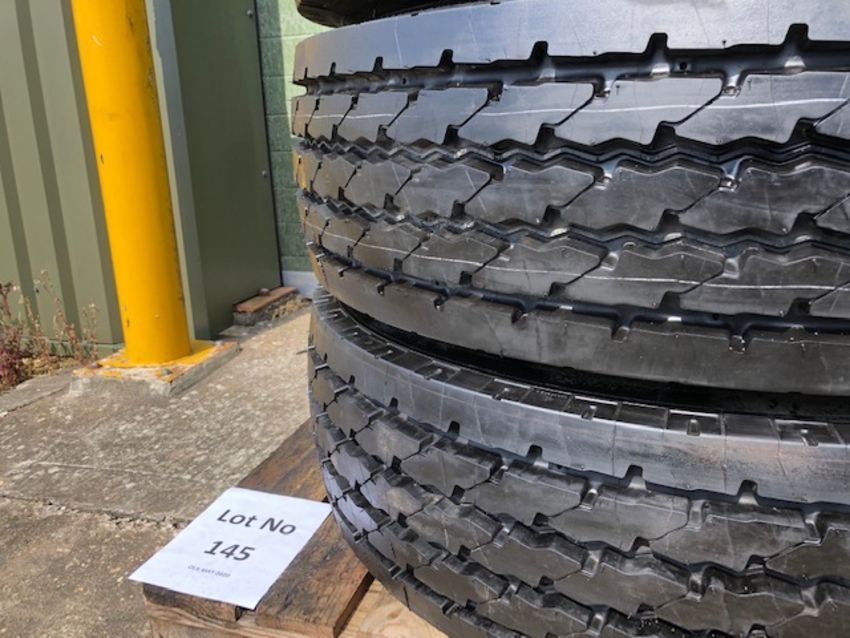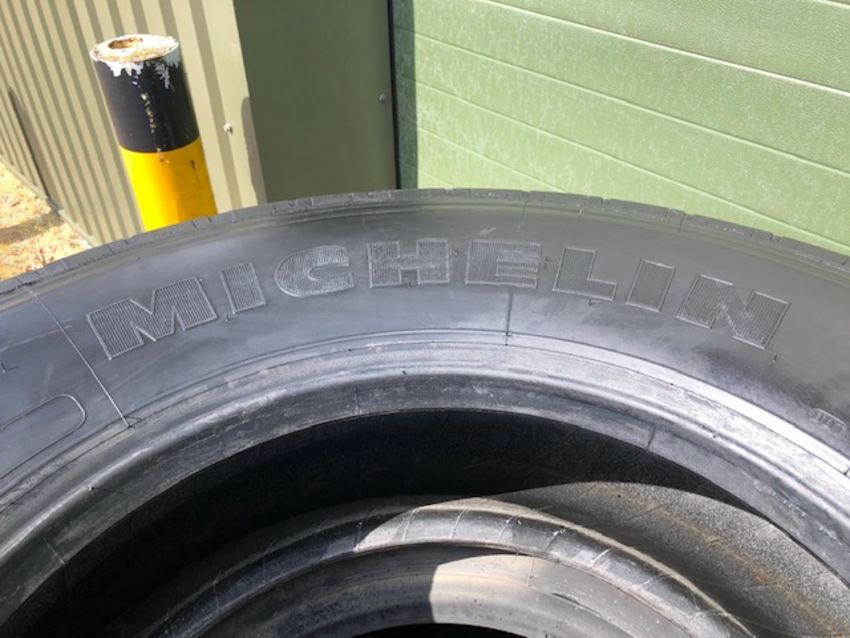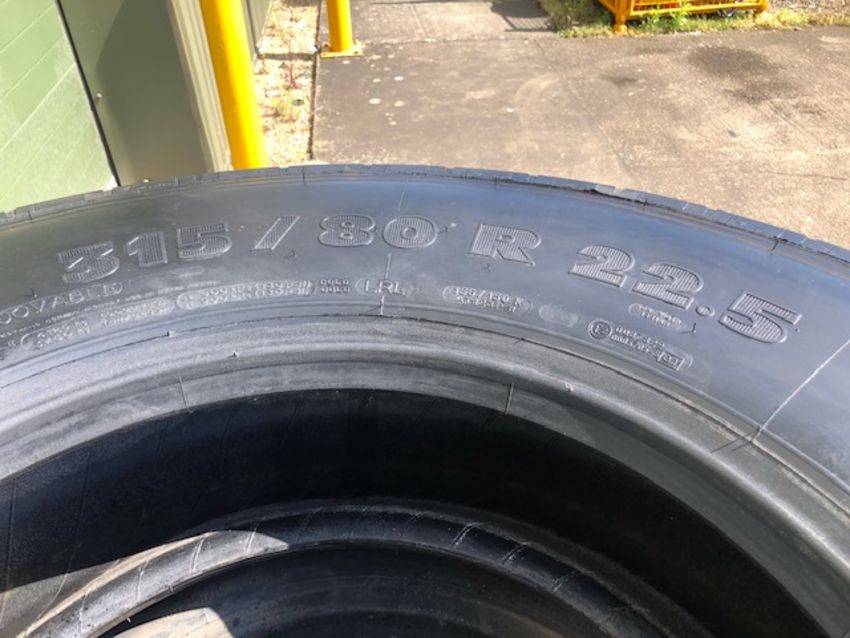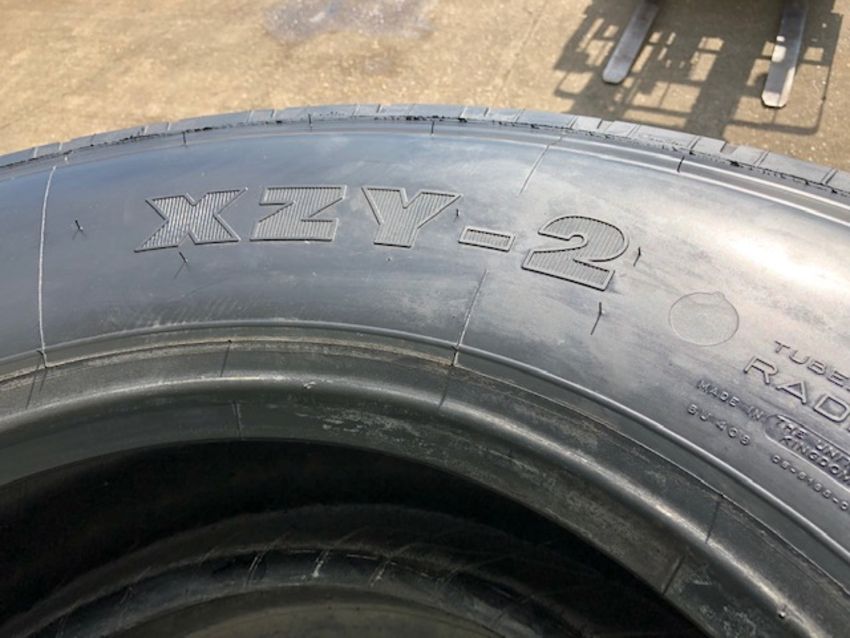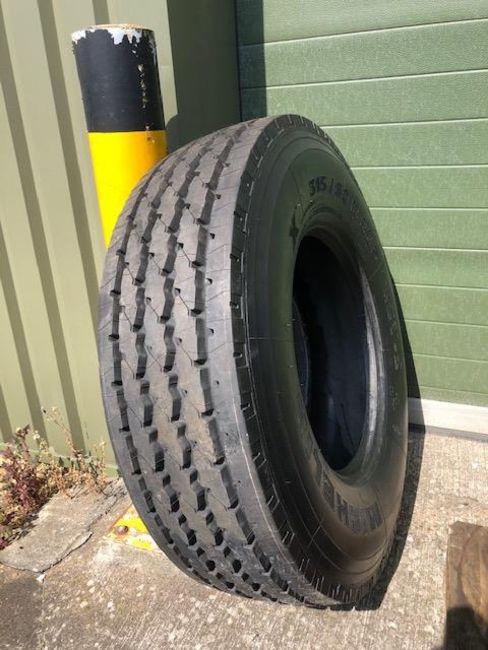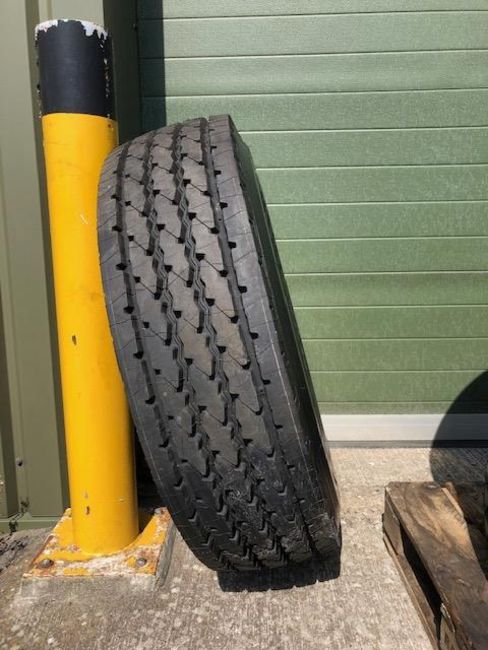 Please confirm purchase
You are about to buy this lot for
0
GBP
Bids do not include VAT, buyer's premium or delivery.
Clicking the confirm button is legally binding obligation to buy and pay for the lot should your bid be successful.
Proceed With Buy It Now?
We have noticed that your maximum bid is higher or equal to the buy it now price for this lot.
Would you like to discard your maximum bid and proceed with the buy it now option?
Timed auction
Lot location
Colsterworth, Lincolnshire
Qty 4 x 315 - 80R 22.5 Michelin XZY - 2 Tyres, unused with bobbles
Sold as is no warranty
PLEASE NOTE WE ARE CLOSED FOR COLLECTIONS UNTIL WE RECEIVE FURTHER GUIDANCE FROM THE GOVERNMENT. HOWEVER IN EXTENUATING CIRCUMSTANCES WE MAY BE ABLE TO ACCOMMODATE COLLECTIONS BY PRIOR CONFIRMED APPOINTMENT FOR KEY EMERGENCY GOODS.
IN THESE CIRCUMSTANCES PLEASE EMAIL: SALES@MOD-SALES.COM

GOODS STORED DURING THIS PERIOD WILL NOT INCUR STORAGE CHARGES.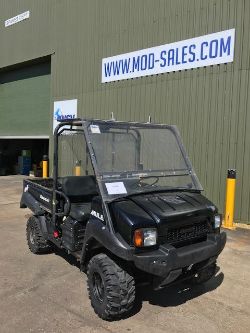 Venue address
Honeypot Lane
Colsterworth, Lincolnshire
NG33 5LY
United Kingdom
May Online Auction Direct from UK Government Departments, Ex MoD, Fire & Rescue, National Contracts & Companies. ** NEW ITEMS ADDED DAILY **
Our Auctions include everything from Plant and Machinery, Land Rovers, Specialist Vehicles, Forklifts, ATV's, Trailers, Generators, Tools & Eqpt etc
Auction dates
Starts:
Apr 21, 2020 09:00 AM BST
Ends from:
May 01, 2020 07:30 PM BST
| | |
| --- | --- |
| Auction currency | GBP |
| Accepted cards | |
General Auction Terms & Conditions
These Terms and Conditions of Sale apply to all items offered for sale by Witham Specialist Vehicles Ltd.
Published auctions by Witham Specilaist Vehicles should not be understood as a contractual offer in terms of law, but should be deemed as an invitation to the bidder to submit binding bids.
The term Buyer in the following provisions is defined as a person, a legal entity or a partnership of legal capacity, who upon conclusion of a legal transaction, acts for and within its commercial or individual professional duties on behalf of a business.
Witham Specialist Vehicles Ltd, reserves the right to modify these Terms and Conditions of Sale at any time and any such modification shall become part of these Terms and Conditions of Sale. By participating in a sale, the buyer agrees to be bound by these Terms and Conditions of Sale.
By pressing the"Bid Now", "Submit bid" and "Confirm bid" buttons on the website, each Buyer gives an undertaking to Witham Specialist Vehicles Ltd that they are acting as an Individual, a Registered Company, Self-Employed, Sole Trader or Reseller.
Witham Specialist Vehicles Ltd requires that prospective buyers provide a suitable email address so that they may be contacted in relation to lots won, collection and payment as well as future sales events if requested. A prospective buyer's registration will not be approved until they receive and acknowledge the email verification that is sent to them as part of the registration process.
Prospective buyers are also advised to ensure that emails from the above addresses are not directed to their "junk" folder or equivalent.
All items are sold by Witham Specialist Vehicles Ltd on the basis that the terms implied by sections 13, 14, and 15 of the UK Government Sale of Goods Act 1979 as to description, satisfactory quality, fitness for purpose and sale by sample are not applicable.
Please note reserves can be altered at any point up until the close of the auction
You will be notified by email the following working day if you have been successful on your item. All bids are contractually binding and cannot be retracted.
ACCEPTANCE
The Buyer's placement of a bid for purchase of the Goods constitutes acceptance of the said Goods "as is", "where is" and ex-works. By purchasing the Goods the Buyer is deemed to have examined, or had the opportunity to examine the Goods, and agrees that the Goods are in every particular, fit for the purpose and use required by the Buyer.
WARRANTY
Witham Specialist Vehicles Ltd disclaims all warranties, expressed and implied, with respect to the Goods including and without limitation any implied warranties of merchantability, fitness for a particular purpose, or freedom from latent defects. The Buyer is reminded that Witham Specialist Vehicles Ltd is neither the manufacturer of the Goods nor an agent of the manufacturer and that the only warranty, if any, with respect to the Goods, is vested with the manufacturer.
LIABILITY
Neither Witham Specialist Vehicles Ltd nor their Seller, shall be liable to the Buyer for any claims for damages, losses, costs, penalties, expenses, legal fees, or for any other liabilities of any nature whether arising in contract, tort, or otherwise howsoever caused including without limitation any claims resulting from damage to property caused in whole or in part, directly or indirectly, by the Buyer, its representatives, agents or any third parties arising out of or in connection with the condition, use, operation, transportation, maintenance, possession, rental or sale of the Goods to a third party, negligence, breach of warranty conditions, delay, interruption of business, stoppages of work, failure to warn, operational deficiencies or failures, breakdowns, strikes, acts of God, unavailability of the Goods, or any cause whether avoidable or otherwise (collectively known as "specified claims").
INDEMNITY
The Buyer shall indemnify, defend, and hold the directors, officers, employees, agents and subcontractors of Witham Specialist Vehicles Ltd and their Seller, harmless from and against any and all specified claims.
DESCRIPTION OF SALE
All potential bidders are advised to read the information provided in the lot information and the procedures included in these Terms and Conditions of Sale, and to inspect the Goods before bids are submitted. There are no warranties, either expressed or implied, and no returns, exchanges or refunds. All Goods will be displayed for on-site viewing, but Witham Specialist Vehicles Ltd is not required to move items in order to facilitate inspection.
PRODUCT INFORMATION
Information provided by Witham Specialist Vehicles Ltd is not guaranteed and should not be considered as a substitute for the prospective Buyer's due diligence in physically inspecting the Goods.
The buyer shall be responsible for adherence to safety, licensing and environmental protection requirements as well as for applying for operating permits.
AUCTION DETAILS
Witham Specialist Vehicles Ltd reserves the right at any time, without giving any reason or cause, to refuse any individual or organisation access to any or all sales.
At its absolute discretion, Witham Specialist Vehicles Ltd reserves the right to reject any, or all bids.
Witham Specialist Vehicles Ltd cannot guarantee that its system for placing, receiving, collecting and tabulating bids over the Internet will be available without interruption, free from errors or other defects. Neither shall Witham Specialist Vehicles Ltd accept any liability with respect to any claim or allegation that a prospective Buyer's bid was not received, properly or effectively processed, or accepted due to technical errors or problems with the auction system of the Website.
PROXY-BIDDING
Where applicable Proxy Bid increments of MINIMUM 5 GBP for all Sales are required. This feature will hold the prospective Buyer's bid, automatically raising it by 5 GBP increments in response to other bids until either the prospective Buyer has been successful in winning the Lot, or their pre-determined bidding limit has been reached.
BID RETRACTIONS
No adjustment will be made to the winning bid due to any error in the bidding process, or any other discrepancy regarding description, condition, quantity, or other factors that may influence the final bid price of a Lot.
PAYMENT TERMS
Payment in full is required within 3 working days of the presentation of successful bidder email and the Buyer is required to pay the total purchase price before the Goods may be removed either from Witham Specialist Vehicles Ltd premises or from the location where the Goods have been made available for sale. Collection must be within 7 days of Invoice date **this does not apply during COVID-19 Government restrictions**. Failure to collect will result in storage charges. Should items require repacking for courier collection: repackaging charge of 15 GBP plus VAT per Lot will be applied.
NO WARRANTY IS OFFERED OR IMPLIED IT IS BOUGHT AS SOLD AND SEEN VIEWING IS WELCOME AND RECOMMENDED.
VAT WILL BE ADDED TO THE FINAL PRICE.
PLEASE NOTE THERE IS A 10% BUYERS PREMIUM ON ALL LOTS IN THIS AUCTION.
YOU ARE BIDDING TO BUY AND ONCE YOU HAVE PLACED YOUR BIDS AND AGREED TO THE TERMS AND CONDITIONS THEY CANNOT BE CHANGED. IF YOU DO NOT WISH TO BUY DO NOT BID.
PLEASE NOTE RESERVES CAN BE ALTERED AT ANY POINT UP UNTIL THE CLOSE OF AUCTION
Terms: Full payment must be made within three days and removal within seven days otherwise storage charges will apply at GBP 28 per day **Please note collection and storage charges do not apply during Government Lockdown restrictions. Goods will be stored Free of charge until our site reopens**. This is a legally binding contract to purchase. If you are not sure please do not bid. We are unable to cancel your purchase after the auction closes. For further information or to view any other items at Witham MoD, contact Simon Chapple in sales on 01476 861361 / 07788610730 or email onlineauctions@mod-sales.com
NOTE:
CREDIT CARDS ARE ACCEPTED UP TO GBP 150
DEBIT CARDS ARE ACCPETED WITH 2 FORMS OF ID AND THE CARDHOLDER PRESENT
BANK TRANSFER IS ALSO ACCEPTABLE BUT THE GOODS WILL ONLY BE RELEASED WHEN WE CONFIRM PAYMENT HAS REACHED OUR ACCOUNT
WE ACCEPT CASH UP TO A MAXIMUM OF GBP 9000
Online auction Direct from the UK MoD and other departments. Running 365 days a year 24 hours a day. New items added daily. Items include cars, vans, 4x4s, emergency services vehicles, motorbikes, trucks, trailers, Armoured personnel carriers, Vehicle Spares, Engines, Tyres, Tools and various militaria and non militaria items. All items listed at www.mod-sales.com/auction/
Please note reserves can be altered at any point up until the close of the auction
You will be notified by email the following working day if you have been successful on your item. All bids are contractually binding and cannot be retracted.
All bids are plus VAT. NO handling/loading charges.
All items are available to view by appointment only at the following site: Witham Specialist Vehicles Ltd, Honeypot Lane, Colsterworth, Lincs, NG335LY. Opening hours are 8.30am to 5.00pm Monday-Friday, Closed Sat-Sun. For further information regarding any item listed on our auction please contact Simon Chapple: Telephone: 01476 861361 / 07788610730 Email onlineauctions@mod-sales.com
Once the auction item has ended you will recieve an invoice the following working day by email. Full payment must be made within three days from the date of the invoice and removal within 7 days. All items are located at the following site: Witham Specialist Vehicles Ltd, Honeypot Lane, Colsterworth, Lincs NG33 5LY. The following payment methods are accepted: bank transfer, cash up to £9000 with I.D., debit card in person with I.D., credit card up to an amount of £150. Payments can be taken over the phone on a credit card up to £150 or debit card up to £500. Items will not be available for collection until the funds have cleared.
Please ensure you read and agree to our terms and conditions prior to placing your bid. This is a legally binding contract to purchase, if you are not sure, please do not bid. We are unable to cancel your purchase, after the auction closes. For further information or to view this or any other items at Witham MoD, contact Simon Chapple in sales, 01476 861361 / 07788610730 or email onlineauctions@mod-sales.com